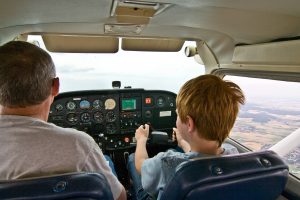 Learn to Fly!
Becoming a Private Pilot opens up a whole new world of recreational and travel possibilities, and draws you in to a select and tight-knit community. You'll never forget your first flying lesson or your first solo flight, and every time at the controls offers new opportunities to grow and improve your skills and knowledge as a licensed pilot.
What does it take to become a Private Pilot? You'll find it challenging, but rest assured that anyone with the right mind set can become a safe and proficient pilot. Here are just a few of the interesting and exciting things you'll learn in your training program at Palm Beach Flight Training:
Basic flight maneuvers and skills such as turns, climbs, descents, and stalls
Takeoff, landing, and airport traffic pattern operations
Flying by reference to instruments
Planning flights to distant airports, and methods of en route navigation
Academic areas such as weather, aircraft performance, aerodynamics, and more
Interested, but still not sure? Why not schedule a "Discovery Flight" so you can try it out for yourself and see what flying is all about? Find out more here.
Ready to make your move, or do you still have some questions? Call us today at 561-963-8821, email us at info@pbflight.com, or just use the easy email form below!